West Coast Art - Drawings - Paintings - 3D Art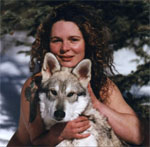 Rebekah has a unique and diverse background which is celebrated in the many artistic talents she has demonstrated over the past 15 years. Her career began professionally in 1990 at the age of fifteen when she began selling limited edition prints in Port McNeill and Port Hardy. Her earliest works were pencil drawings of wildlife art and First Nations people, inspired exclusively by her exposure to the wild and rugged lifestyle of commercial fishing and her families homestead in isolated Jennis Bay, Drury Inlet. with generous local support and advice from people such as Al Murray of Graphics West, Rebekah began to develop a name for her self. Rebekah funded the costs of her new business with income earned from hand logging and commercial fishing. At the young age of thirteen Rebekah began skippering the thirty-foot tugboat, MV Gray Swan. She did a man's job of yarding logs out of the bush with the tug, and limbing trees with a chainsaw. Rebekah worked with her father, Milan Pesicka, hand logging in the winter and prawn fishing in the summer.
Three months of the year she spent at home doing a full year's worth of schooling by correspondence. At seventeen Rebekah began to skipper Milan's prawn boat, MV Silver Slug and continues to fish prawns commercially to this day. Prawn fishing is seasonally open from May first to the end of July. A timely job for her when she began to attend Emily Carr Institute of Art and Design in Vancouver. In 1997, soon after Rebekah began her study at ECIAD, she remembers a teacher asking her why she was there, then going on to say that her work was already so good she didn't need to be in art school. Surprised, Rebekah responded by saying that she might be a talented artist but definitely not an educated one - yet.
For the next four years Rebekah attended ECIAD from September to April, then skippered the MV Soozee and MV Silver Slug from April to August. In the winter the family fishing boats remained tied to the dock at the False Creek Fisherman's Wharf, which is a convenient five-minute walk from ECIAD. Rebekah remembers that every year, come spring, it was a welcome relief to fire up the old Soozee (mother ship for the Silver Slug) and, after passing under Burrard Street Bridge, begin the forty hour tow up north to Port Mcneill. She would watch the skyscraper skyline of the city slowly disappear into the ocean as the miles between her and Vancouver grew.
While attending art school Rebekah had little time to produce sellable art; however, in 1998 she did have the honor of receiving a ten thousand-dollar bursary from the Elizabeth Greenshield Foundationding for artwork that she made prior to attending ECIAD . In 2001, as her final grad project Rebekah completed her most significant piece- a sculpture of two larger than life bronze herons. Soon after her graduation the herons sold while on display in the elegant Herons Restaurant, which is next to Canada Place in Vancouver.
In the fall of 2001, with her soon to be husband Kevin Parlee, Rebekah bought an old heritage home on the waterfront of the tiny Finnish community of Sointula. Sointula (pop. 805) is located on Malcolm Island and is serviced by the BC Ferry Corporation. Kevin Parlee and Rebekah Pesicka were married in their boathouse on September 28, 2002 in Sointula, BC. Kevin is also actively involved in the commercial fishing industry as a procurer/manger for Harbour Marine Products Ltd. Kevin comes from Ucluelet and is the son of Minister Richard Parlee. Immediately after buying the property in Sointula Rebekah and Kevin began to renovate their almost collapsing boathouse with the intention of turning it into an art gallery and studio space for Rebekah's work, at the same time preserving it's historic value as a West Coast heritage building