Art Gallery - Art Studio - Sointula - Vancouver Island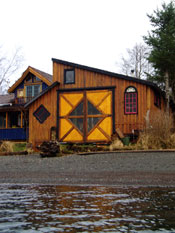 Approaching the western shores of Sointula from Port McNeill on Vancouver Island the historical picture of a land once occupied by hardworking boat builders and craftsmen unfolds. The remains of once glorious boathouses dot the shoreline, wind blow and salt battered, abandoned as each new generation finds new ways to sustain an existence on Malcolm Island. Rebekah Parlee, an artist and fisherman is firmly connected to the spirit of the land and energy of her waters. She is committed to telling the story of the land, people and events through her art and has committed to preserving the heritage of the island by refurbishing her old boathouse and breathing new life in to its space. This summer Rebekah will be opening the doors to her boathouse gallery/ artist workshop. The gallery features Rebekah's many talents in designing space, creating stained glass, drawing, painting and sculpting. There are no limits to Rebekah's dedication to sharing her creative energy and her commitment to living Sointula's meaning "place of harmony". By combining the old with the new this gallery is a must see.
Located two blocks to the right of the BC Ferry Terminal in the Finnish community of Sointula, the Boathouse has been restored to preserve a part of the rich maritime history of the BC coast.
Back to Top - Art Gallery, Art Studio, Sointula, Vancouver Island